After a long time in the making we're excited to announce the launch of our product, Viadog Subscriptions, show you how it works and how you can get started today.
Viadog Subscriptions makes it as simple as possible to get more value out of your Shopify and ReCharge subscription orders by helping to increase revenue and reduce churn with set and forget tools.
Reduce churn with gifting
Gifting no longer has to be a manual task involving spreadsheets and post it notes. Incentivise against cancelled subscriptions by automatically offering your customers different gifts depending on how many times they've ordered in the past.
The first thing to do is connect ReCharge, this gives us visibility of your upcoming subscription orders.
The next step is to configure your gifting rules. Select which gifts are given on particular order numbers, if your customers tend to cancel after a certain number of orders you can select a high value gift as an incentive to maintain their subscribtion. You can create as many rules as you like.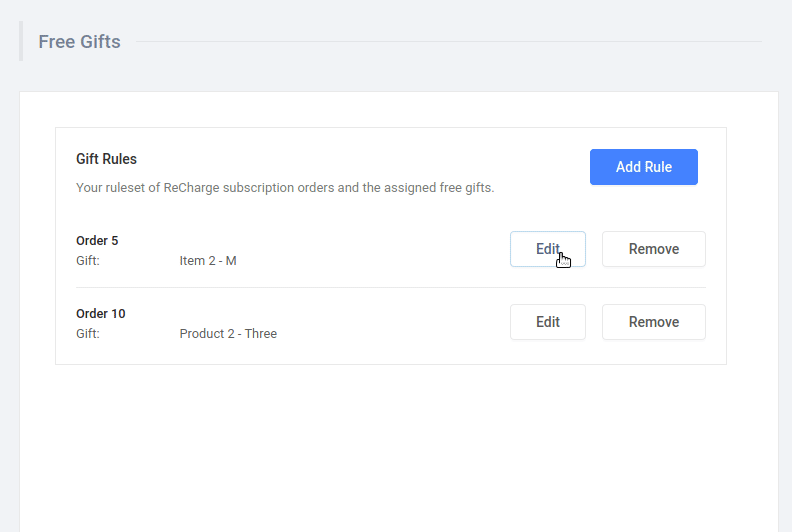 Once you're rules are added, that's it, just sit back and let us do the rest.
Increase revenue with upselling
The biggest problem with upselling subscription orders is that due to the nature of subscriptions, the customer no longer visits the checkout as their order is scheduled automatically. This mean unless you're manually contacting subscribers, you're not able to offer any upsells.
We've solved this problem by allowing the customer to purchase additional items just before their order is due to be processed. Three days before your subscription orders are due (configurable in ReCharge) we'll email the customer offering the upsell with a link to a hosted landing page.
Once your customer arrives on the landing page they can quickly and easily add to their order with no payment details required. The upsell items can be added as either one time or subscription items, the latter meaning you can upsell once then benefit from the additional revenue will be on every repeat order.
Upselling is currently in development and will be available in Q4 2020.
Set and forget
Once your initial rules are setup, no further action is required.
Say goodbye to manually managing your subscribers, we'll work in the background to both add your gift items when applicable orders are processed, and offer upsells a few days before the orders are due to be processed.
Following this, the order is processed as normal including any applicable free gifts/upsells.
Get started
Viadog Subscriptions starts from £10 per month and scales with the number of active ReCharge subscribers.
Any questions? Reach out to us on the contact page.